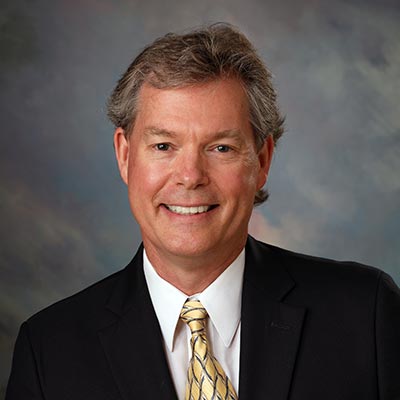 Meet Dr. Petree
Lewis Petree, D.M.D., F.A.G.D.
Dr. Petree grew up in Barrow County and graduated from Winder-Barrow High School in 1980. He was active in Boy Scouting as a youth and reached the rank of Eagle Scout. After high school, he attended Oxford College of Emory University and received an Associate in Arts degree. He then attained his Bachelor of Science degree (1984) from the University of Georgia, majoring in Biology. From college, he was accepted and completed his dental training at the Medical College of Georgia, receiving his Doctorate of Dental Medicine (D.M.D.) degree in 1988.
In 1988, Dr. Petree was accepted into the General Practice Residency at Richland Memorial Hospital in Columbia, South Carolina. In his residency, he received specialized training in wisdom tooth extraction, dental implants, conscious IV sedation techniques, advanced cardiac life support measures. In 1989, Dr. Petree returned to Winder to join practice with Dr. Stansell.
Since 1989, Dr. Petree has achieved and maintained licensure with the Georgia Board of Dentistry to provide conscious sedation in the dental office. He maintains an adjunct faculty position with the Medical College of Georgia where he trains other dentists to place implants and provide IV sedation in a general practice setting working with the post graduate residency program. Dr. Petree has attended many specialized courses in restorative, cosmetic and implant dentistry. He is an alumnus of the world-renowned L.D. Pankey Institute for Advanced Dental Education.
In 1998, Dr. Petree received the prestigious Fellowship Award from the American Academy of General Dentistry after completing over 500 hours of approved continuing education and successfully passing a written examination developed by his peers.
Dr. Petree continues to further his education through memberships in the American Dental Association, Georgia Dental Association, Clarke Area Dental Society, Academy of General Dentistry and attendance at Hinman Dental Society meetings.
Dr. Petree is an active member of Winder First United Methodist Church where he is Scoutmaster for Boy Scout Troop 700. He sings with the chancel choir and with the Quartermaster Gospel Quintet. He is also a member of the Chamber of Commerce, having served as Director for the last 3 years. Dr. Petree volunteers his professional talents with the Mercy Health Clinic Mission in Athens, Georgia. He is married to the former Ellen Ealy of Athens, Tennessee. They have two children, Holden and Margaret. He enjoys mountain biking, YMCA workouts, family activities, and is a faithful UGA football fan!