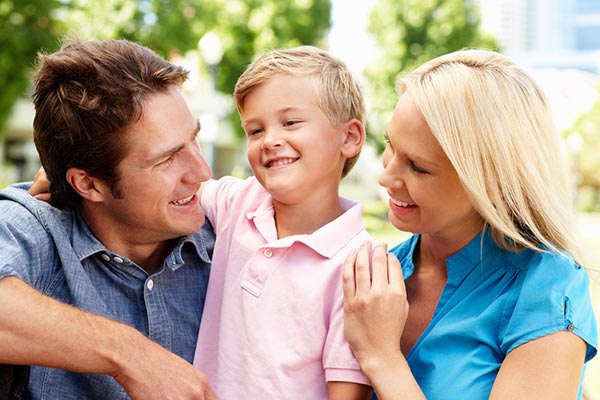 Dentistry for Children
Our dentists and team members enjoy seeing children in our Winder family dental practice. It is our pleasure to watch them grow up with a healthy smile!
We are honored to earn the trust of our patients and their families, and we know that we have a very important job in providing dental care for your child. Our goals are to teach them to take care of their smile as well as do our part in helping to prevent dental problems.
Your Child's Dental Needs
Children have changing oral health needs as they mature. From baby teeth to wisdom teeth, making sure the teeth are in good health and free of decay is very important to avoid toothache pain and other dental problems.
Baby teeth serve a vital purpose to hold a space for the permanent teeth as they erupt; during regular check-up visits, we will monitor these teeth to make sure they are not lost too early. And, when it is time for the Tooth Fairy to claim her prize, we are happy to assist your child if they have trouble getting a baby tooth to fall out.
Studies show that having a healthy smile is essential to your child's self-confidence as they grow up. During the early teen years, we monitor your child's oral health to make sure the permanent teeth have enough space to erupt normally. We may refer you to a dental specialist, an orthodontist, if we feel that orthodontic treatment (teeth braces) might be needed.
In some cases, we may coordinate your child's care with a pediatric dental specialist if they have non-routine needs.
Your Child's First Visit to our Winder Dental Office
At Stansell, Petree & Seibert Family Dentistry, we want your child to always enjoy positive dental experiences, beginning with their very first visit to our practice. At the first appointment, we may begin with a simple ride in the dental chair and an introduction to 'Mr. Thirsty' as we gradually familiarize your child with the sights and sounds of the dental office.
Once we have a trusting relationship, we can care for your child's smile and encourage them to look forward to seeing the dentist by making each visit a happy event.
Dental Check-Ups & Cleanings
Our dentists recommend that your child is seen for a dental check-up and cleaning every 3 to 6 months. During these appointments, your dentist will examine your child's teeth and gums to make sure everything is normal. He will request periodic dental x-rays to 'see' below the gums to monitor tooth development or look between the teeth for cavities.
Fluoride Treatments & Dental Sealants
Fluoride treatments are often recommended for children and adults. Fluoride is a mineral that bonds with tooth enamel to make it stronger and more resistant to tooth decay. Fluoride 'varnish' is simply painted on the tooth surfaces by the dental hygienist after your child's teeth cleaning.
Dental sealants are also an effective and economical preventive measure; the plastic sealant material is painted onto the chewing surface of the permanent tooth to seal the deep grooves and pits. This creates a smooth, cleansable surface that makes it easier to remove food particles and bacteria during regular brushing. Your dentist and hygienist will check your child's dental sealants during regular dental visits and will re-apply the sealant material if it comes out.
Teaching Your Child to Brush & Floss
Children need help brushing their teeth until about age 6 or 7. They lack the dexterity to reach all of the tooth surfaces effectively. We suggest letting them brush, and then taking your 'turn' to follow behind them. Twice-a-day brushing is a great family routine; we will show you how to brush and floss your child's teeth and provide ideas on ways to make it fun.
The American Dental Association® provides videos for teaching your child how to brush.
If you are looking for a children's dentist near you in Winder, please Contact Stansell, Petree & Seibert to schedule your next check-up and cleaning visits. We will always greet you and your family with a very warm welcome!
"WE LOVE DR PETREE & STAFF! We bring our whole family here - including 2 - 6 year olds and we love the care and kindness that Dr Petree & Staff always show us. My kids love coming here and it makes my heart happy knowing that they are giving them a good foundation of healthy teeth without being scared at all. We would highly recommend them!"
— Luke B.
"Always on time, friendly and love everyone I encounter. Been going since I was a young girl."
— Chrystal S.