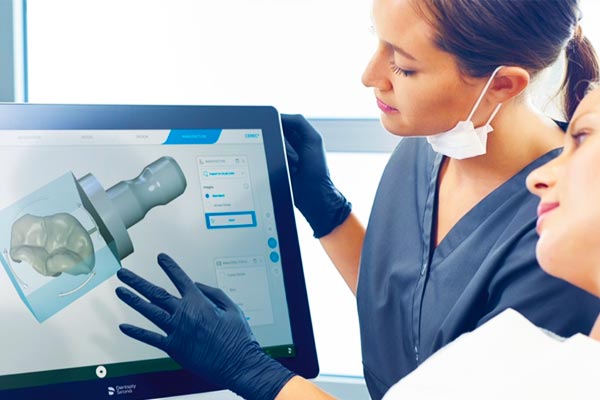 CEREC® 1-Visit Crowns
Experience CEREC® 1-Visit Restorations
Our doctors utilize CEREC® CAD/CAM Technology for in-office fabrication of dental crowns, onlays and inlays and dental implant restorations. This unique technology has been available for over two decades and offers the advantage of allowing our doctors to design your custom ceramic crown, inlay or onlay using 3D technology in our office while you wait. No messy impression materials or annoying temporaries, you leave our office with your final restoration on the same day!
How it works:
The doctor prepares your tooth for a restoration, removing decay and re-shaping any damaged areas,
We take a "digital impression" of the area using patented camera technology. In the case of a dental implant restoration, CEREC® imaging communicates with 3D diagnostic xray imaging to incorporate calculated precision into adapting the design for the dental implant.
The doctor designs your custom restoration using CEREC® 3D Imaging Software,
CAD/CAM instructions are transmitted via a wireless connection to our in-office milling chamber, where your restoration is carved from a special ceramic block,
The doctor seats your CEREC® restoration using a dental adhesive bonding technique,
You leave our office with a completed restoration - no second delivery appointment necessary!
Read more about CEREC®. Visit Cerec Online: www.cereconline.com
Too busy to visit the dentist? CEREC® Technology can help avoid making multiple trips for
restorative procedures - Contact Us Today to find out how!