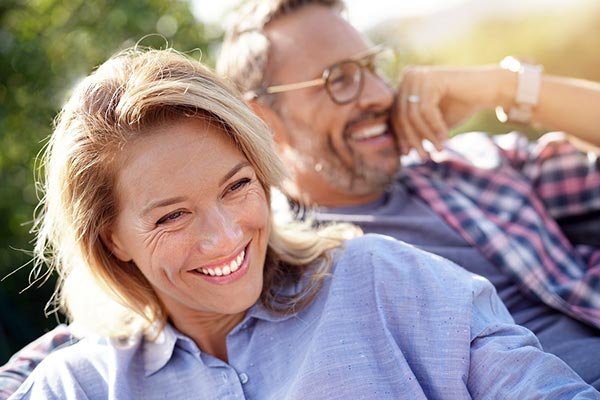 Root Canal Procedures

in Winder, Georgia
At Stansell, Petree & Seibert Family Dentistry, our dentists provide root canals and restorative treatments to keep your smile healthy and pain-free.
If you are experiencing tooth pain or have been told that you need a root canal, it is important to see a dentist promptly to save the tooth and prevent a more serious tooth infection or root abscess.
What is a Root Canal?
A root canal is a treatment performed to remove infected nerve tissue from the tooth roots and preserve remaining tooth structure.
When a tooth becomes infected due to deep decay or trauma, this can be very painful and can develop into a root abscess. If the tooth can be saved, it will be necessary to perform a root canal procedure to eliminate the infection and restore the tooth.
After getting the tooth numb with local anesthetic, your dentist will open the tooth to clean and treat the root canals with special instruments. (There are typically 2-4 roots per tooth.) The canals are irrigated, dried and sealed with medicated material to insulate the tooth roots and complete the root canal procedure. The dentist will take digital dental x-rays to check to make sure that all the tooth roots have been completely sealed.
Following root canal therapy, the tooth is covered with a dental crown to restore proper function and provide additional protection.
In some cases, our dentists may refer a patient to see a root canal specialist, or endodontist. The endodontist will complete the root canal procedure and the patient will return to our practice to have the tooth restored with a crown.
Root Canals Save Teeth

(and treatment costs)
When a patient has a toothache, it is a normal reaction to want to have the tooth removed. Our goal is to alleviate tooth pain as quickly as possible, and then review treatment options that make sense for your dental health.
Dentists prefer to save necessary teeth whenever possible. While tooth replacement services such as a dental implant or a bridge are good options, treating the natural tooth with a root canal and crown is usually a more conservative and less costly procedure.
"Dr. Petree always treats a big baby like me with kid gloves. Dr. Petree and his staff have always been very friendly, personal and professional. My family and I have been going there for almost 20 years and we wouldn't think about going anywhere else."
— Scot H.
"As always, visit was great, especially since he [Dr. Petree] was able to save my broken tooth. He is always concerned about his patients and his assistants are also great! Up front employees also get 5 stars by me… Thanks to all of you."
— Mary Jo